Wireless Nurse Call Systems

Wireless Nurse Call Systems | Pendant Emergency Call Systems
We are offering A variety of "Superior Wireless Nurse Call Systems" that happened to be among the most versatile in the industry.
Our Wireless Call Solutions provide senior living communities the ability to efficiently respond to residents in need of assistance, increasing resident safety and peace of mind. These truly affordable wireless nurse call system is designed after years of working face-to-face with administrators, care givers and residents, so the experience of using our Wireless Nurse Call solutions is everything you want it to be and nothing you don't..
Reliable- Our Wireless Nurse Call Systems use proven and tested 900MHz Spread Spectrum technology. Options available for Battery back-up ensures that your system keeps working even in an emergency. Dependable 24/7 monitoring will let you know right away if your system needs attention.
Expandable - Do you want to start small with your Wireless Nurse Call System and expand in the future? No problem. Our solutions, which can be used as a wireless nurse call or emergency call system, are available in THREE OPTIONS so communities can enter at different price points with the ability to share most of our wireless devices between all three options. You can start small and expand in the future without having to replace all of your transmitters and repeaters. New devices are easily installed and work from the moment they are learned into the system. Care givers can now closely monitor individual residents that require special attention, while allowing other residents the independence they desire.

Escalation - Every senior living community runs differently. At BEC, we don't tell you how to use our system. You tell us how you want to use our system. You can customize and Pre-Program your system in which care givers are notified of alerts, set up separate notifications for different wings or buildings, and even receive notifications by email or text message if care givers haven't responded.

Each system is scalable, code-compliant and independently functional:
Our nurse call solutions, which can be used as a wireless nurse call, emergency call system, or wireless
pendant system are available in THREE OPTIONS (Visionlink Premier, MV400, and MV200) so communities
can enter at different price points.
Wireless Nurse Call System

UL1069 Listed (Version 7)

Option Available
Visionlink Wireless Nurse Call System / Emergency Call System's main advantages are:
Wireless Nurse Call System's / Emergency Call System's

Paging solution

Option for a UL 1069 Edition 7 certification for hospital signaling and nurse call equipment

Operates at

900MHz Spread Spectrum

Includes resident location down to the room-level

Integrate nurse call and wireless fall management with optional silent, local alarm

Wireless Emergency two-way intercom communication

Instant alerts to nurse pagers & LED displays

Easy system installation and expansion

Wireless voice messaging throughout the facility

Improved productivity and reduced maintenance costs
---
MV400 Wireless Nurse Call System

The MV400 Wireless Emergency Response System will support up to 300 wireless emergency transmitters including single & dual bedside patient stations, code blue stations, emergency pull cord stations, push button emergency stations, wrist and necklace pendants, smoke detectors, window and door monitoring, and much more. Corridor Dome Lights and pocket pagers are available to enhance staff notification for faster response times. MV400 Wireless Emergency Call Systems are used extensively in assisted living communities, clinics, group homes, senior apartment buildings and as well as in a variety of security applications. Read More...
MV400 Wireless Nurse Call System / Emergency Call System's main advantages are:
Standard Features

900 MHz spread spectrum technology

Alarm calls reset at the source

Easy user programming

20 character alpha-numeric display

User replaceable long-life battery

Plug and play installation (System comes PRE-PROGRAMMED)

Supports up to 300 transmitters

Pocket Pager Integration

System watchdog assures flawless operation


Equipment Options

Wireless Single & Dual Patient Stations

Wireless Emergency Pull Stations

Wireless Pendant and Wrist Transmitters

Alpha-numeric pocket page alarm notification

Wireless Door and Window exit sensors

Ventilator alarm with timer

Smoke/Motion/Glass breakage sensors

Wireless Temperature sensors
---
MV200 Wireless Nurse Call System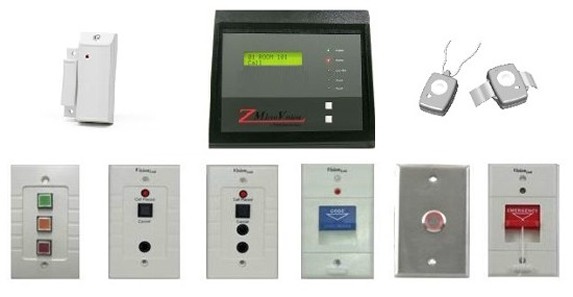 MV200 Wireless Nurse Call supports up to 48 wireless emergency call stations, pendants or devices and is widely used in clinics as well as assisted living homes. Exam rooms can be equipped with wireless flush mounted stations with one to three colored LED buttons to signal that assistance is needed. The wireless consoles will provide an audible tone and visually display the room number or name needing assistance. Add wireless emergency pull stations in the bathrooms, dome lights over the doors or code blue stations for priority emergencies. Exam rooms, psychiatric wards, procedure rooms, waiting areas, dialysis centers, or any place staff or patients may need to signal that assistance is needed is an excellent location for a Wireless Nurse Call system. Read More...
Additional Wireless Nurse Call Information
Wireless Pendant

Pendant buttons for all lurked calls are quite visible and these calls can be sent to the PC server as well as any of the pagers set up on the system. There is a small reset button on these pendants so calls can be canceled at the pendant. This button cannot be mistaken for the alert but that the resident would use. Standard coin batteries are used and pendant batteries last from one to two years depending on usage. All pendants offer low battery notifications. These low battery notifications begin 3 to 4 weeks before the battery is completely drained. This should give plenty of time to change out the batteries.

Wireless Pull Cords

Pull cord stations mount to standard single gang boxes and can be flush or surface mounted. These pull cord stations are powered with standard batteries which last anywhere from 3 to 5 years and we typically recommend setting up a schedule to replace all batteries at one time to minimize the maintenance upkeep. Low battery alerts are sent out 3 to 4 weeks before the batteries are completely drained. Calls can be placed on these pull cord stations by pulling the cord or pushing down on the switch of the pullcord itself. Calls from the stations must be canceled at the pull cord.

Wireless Call Alerting

All calls placed on this system can be set up to notify desk mounted consoles, PC server, pocket pagers, two way radios, and other third-party systems. We can even accept calls from other systems such as resident wandering systems. This system can be programmed so that resident names and room numbers are displayed on the console or PC. All fixed devices such as pull cords and patient stations will indicate the location as to where the call was initiated. With the PC-based server we do not have a limitation as to the number of characters used to describe a call. This system has four levels of call escalation and the programmed time between escalation levels can be set to any time. Calls that are ringing through to pocket pagers including calls that have moved to the next escalation level will continue to beep on the pocket pager once every minute or until the call is answered.

Additional System Operation Information

This system has the ability to monitor pendants and all other types of transmitter stations such as pull cords, patient stations, door contacts, emergency push buttons and other stations. Fixed stations such as pull cords, patient stations, and other wall mounted devices check in on an hourly basis for faults or off-line issues. If going with our UL1069 wireless nurse call system, fixed wall mounted devices are poled every 40 seconds. Pendants will go into default mode when they are out of range. However, these pendants do not report in real-time. The system is typically notified of pendants out of range issues at check-in time based on the system set up. When devices are down, or off-line the alerts will tone at the call consoles and PC so you will have a visual and audible notification. These types of alerts are not sent to the pagers.

Management Reporting

We offer many options and types of reports with our wireless nurse calls systems. Basic reports will indicate call logs, the number of calls placed on the system for a selected period of time whether that be day, week, month, year. You will also be able to see the like of time it took for a call to be responded to.

Optional Features

There are many additional features offered with this system so expanding on this system will not be a problem. You can integrate two way radios, smoke detectors, carbon monoxide detectors, wireless door contacts for door monitoring, patient wandering systems, automatic fall detection pendants, the ability to view calls on other PCs, and much more.